Dear Birdchainians
We have updated the #Birdchain roadmap with major milestones to be completed in Q3.
To state a few: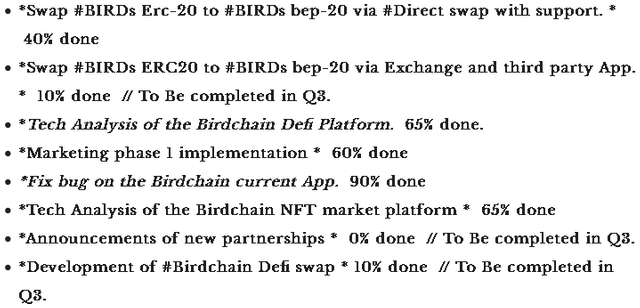 See the updated roadmap here
📌https://blog.birdchainapp.com/birdchain-major-roadmap/
At the moment we're updating the #Birdchain app to implement the gaming feature to be available soon.
We are equally working on other core #Birdchain products. Stay tuned for announcements.
Always #SWAP #Birdchain on Pancakeswap
📌https://exchange.pancakeswap.finance/#/swap?
inputCurrency=0xe9e7CEA3DedcA5984780Bafc599bD69ADd087D56&outputCurrency=0xC9c7C6A590E82C576de7553142d47a5fb63f9e90
Equally install #Birdchain app, complete task, and get rewarded free birdchain tokens
Direct link to get it
📌https://play.google.com/store/apps/details?id=io.birdchainapp.app
#Birdchain(BIRD) is on #IndoEx. Here are trading links.
📌https://international.indoex.io/trade/BIRD_BTC
📌https://international.indoex.io/trade/BIRD_USDT
📌https://international.indoex.io/trade/BIRD_ETH
For any other assistance, contact our support at [email protected]
#Birdchain official social profiles for more information:
Official website: https://www.birdchainapp.com/
https://twitter.com/birdchain_io
https://www.facebook.com/birdchain.io/
https://www.linkedin.com/company/birdchain
https://www.instagram.com/birdchain/
https://www.reddit.com/r/birdchain/
https://t.me/birdchainchat
https://coinmarketcap.com/currencies/birdchain/
#BinanceSmartChain #BSC #BEP20 #BINANCE #blockchain
---